You might be wondering if the GPL Cellar plugin is any good and if it lives up to the hype. The short answer is YES.
What is GPL Cellar?
gplcellar.com is a WordPress plugin you install that allows you to browse thousands of premium WordPress themes and plugins. The plugin acts as a theme and plugin manager to install, download, activate, and update all of the popular plugins available for WordPress. You will only find items that are available for WordPress plugins and WordPress themes.
A lot of people are already using GPL Cellar on their websites. We find a lot of customers are agency or freelance web developers building websites on behalf of their client and they use this plugin on their development web site as a way to try out different plugins for their development needs. They also use the available themes to provide their clients with different demos using premium themes so they have a general idea of what their website will look like.
What are the advantages?
The advantage to using this plugin is you have a single payment that unlocks premium plugins and themes instead of having to go out and buy them individually on your own. The other advantage to this is the cost savings you will encounter using GPL Cellar.
Single payment. No need to manage multiple subscriptions for each item.
Huge cost savings. A single monthly plan is much cheaper than purchasing items directly.
Try before you buy. You can easily try out plugins and themes before you buy.
Simplicity. This plugin is easy to use.
Fast. All products are served locally so there are no external API calls to view products.
Keep items you download. Everything you download is yours forever. You just need an active subscription to get new updates.
Why is GPL Cellar better?
The service provided by this plugin is better than any other service out there for a variety reasons.
The customer service is top notch. Customer support from similar services is slow, not helpful, or non-existent but with this provider your questions will be answered quickly. On an average weekday you can expect a reply within a few hours.
Products are constantly getting updated. While other providers will boast about how they have the largest available plugins and themes you will find they don't keep that collection up to date. With GPL Cellar there are dozens of plugins and themes updated daily so you will always find the latest versions of plugins.
Browse and manage plugins inside of your WordPress install. GPL Cellar is better than other providers because you don't have to go to a website to download your plugins, instead you can use their own plugin to browse the entire catalog and install or download directly.
30 day refunds, even though you wont need to ask for one.
How does it work?
As mentioned many times before, GPL Cellar is a plugin you install on WordPress just like you do with any other plugin. Anyone can download the plugin and install it and you do not need to have a valid license key to activate it. This is great because it allows anyone interested to take it for a test drive to see how it works. There are also about 30 free items you can download and install immediately. We are talking about premium themes and plugins too such as Elementor, WordFence, RankMath, Restrict Content, Ocean, and a bunch of WooCommerce plugins.
The plugin has two pages, Plugins, and Themes. Plugins is for viewing all of the available plugins and Themes is for viewing themes. Below is a screenshot.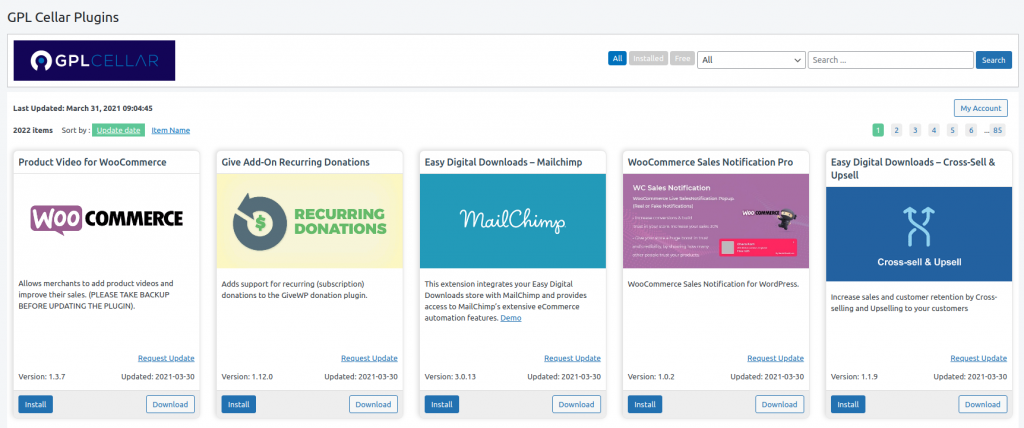 The above screenshot has been clipped to only show the first 5 plugins, but on the page there are 25 items beautifully displayed. The list is sorted by items last updated, but you can easily sort by plugin name. You can also search for items by entering text into the "Search" field and you can also filter items based on the category they are in. You will also find 3 tabs labeled "All", "Installed", and "Free" that will limit your listing to all items, items that are installed, and items that are free.
You can also see from the image there is a button to Install and Download for each item. The buttons do exactly as the name implies, Install will install the item into WordPress and while Download will download the item to your local hard drive. After you Install, the Install button goes away and and Activate button will appear allowing you to active the plugin. If the plugin is already installed a message is displayed next to the item as well as a message if the item needs updating.
The Themes page looks and works exactly like the plugins page.
Conclusion
In conclusion, I highly recommend giving the GPL Cellar plugin a try for yourself. I think you will be amazed by how beautiful the user interface is, how many popular items you will find, and how often updates are applied. The pricing plans to use this plugin are very competitive with other providers out there and you can also take advantage of the 7 day free trial. There's also a 30 day money back refund policy if you are not satisfied with the plugin you can get your money back.